Indian Institute of Technology Kharagpur
DCF Workshop in Bengaluru
THE SANDHI SERIES IS A TEN-part collection of articles (bit.ly/sandHI) that explore India's traditional knowledge systems. Selected academic experts present their exhaustive research on such topics as cosmology, metallurgy, mathematics, architecture, ayurveda, ecology and agriculture. The articles, inspired by the Science and Heritage Initiative (SandHI), are curated by Amita Sharma, former additional secretary in the Ministry of Human Resources Development.
The series' particular focus is India's material and intellectual historical discoveries that are foundational to our modern fields of science, mathematics, technology and medicine. The articles are often rather complex and academic, but well worth exploring.
Sthapatis and their indigenous designs seamlessly adapted topographic and climatic exigencies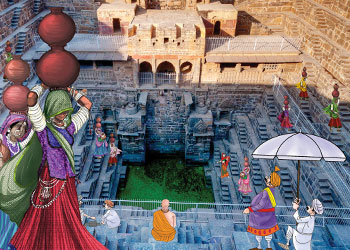 Scholarship in architecture and building techniques has time and again urged us to study the scientific and sustainable rational embodied in evolved indigenous systems. Such practices have often adapted seamlessly to the topographic and climatic exigencies of our subcontinent. Moreover, they are also perceived as collaborative rather than confrontational; thus offering suitable solutions to the alarming man-nature conflict.
World Association for Vedic Studies (WAVES) - Prof. Balram Singh,Professor, Boston, MA
Nivedita Academy - Sadhu Rangarajan, Founder
Bharat Gyan – Project of AOL, D. K. Hari
Swastik (Swadeshi School for training in Indian Knowledge) - Shri Sandeep Singh, Chairman
India Facts, Sh Sandeep Balakrishna
SANDHI – Prof. Joy Sen , IIT Kharagpur

Eighth Session -12:00 to 1:00 pm
Feedback and Blueprint for Future Action Concluding Remarks
1.00 pm –LUNCH
3:00 pm to 5:00 pm – Post conference meet with institutional representatives, to explore collaborations, partnerships & strategic next steps