Indian Institute of Technology Kharagpur
Overwhelming response to SandHI Exhibition at ICCR, Kolkata
The exhibition was held at Indian Council of Cultural relations (ICCR), Kolkata, on Ho Chi Minh Sarani from Sept 11 - 13, 2015. The exhibition was a part of the SandHI (acronym Science and Heritage Interface) Outreach and Dissemination program.
FIRST DAY: Sept 11, 2015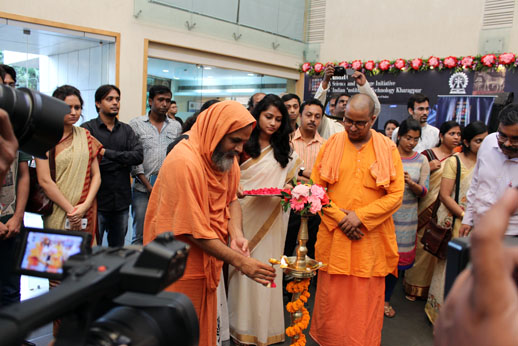 Over 450 people attended the Inaugural function and its aftermath on the Sept 11, 2015 (4 to 7 PM). Swami Shastragyanandaji, Principal, RKM Vidyamandir and Swami Suddhanandaji Baba, Pragyan Mission, Odisha initiated the Hymn and the lamp.
Professors Emeritus Dr. Sukanata Chaoudhuri and Dr. Samar Bagchi were special guests. Ms. Amita Sharma, Advisor to HRM and former Additional Secretary (TE), MHRD, GoI inaugurated the publication series. 7 publications were released. Key among them was the one of 'Historical evolution of India' - that has researched and traced an integral antiquity of the Aryan order of Sages and Rishis in India as early as 11000 BCE. The book also questions the Aryan invasion myth and de-mystifies Vedic cosmology and cosmogony based on science and logic.
Dr. Sanghamitra Bandopadhyay, Director, ISI and Dr Dhriti Banerjee, Head, ZSI graced the occasion. Director, Deputy Director, Registrar and dean (SRIC) also graced the inauguration. Over 25 senior professors from 8 different Institutes were present, in addition to 150 + students.
A team of Mumbai Film makers poured in and they have documented the releases. Overnight the inauguration news was a part of seven major newspapers and the TV e-Media.
SECOND DAY: Sept 12, 2015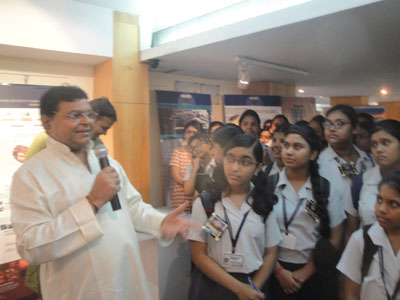 More than 600 school students poured in on sept 12, 2015. Pathabnawan, Sri Siksayatan, Narendrapur RKM, Salt lake Point school, St Lawrence and many more. Guests came in from IIA, ITPI, IIE, IIM, SN Bose institute. Viswabharati and RBU had sent 2 special ontingents. ABP Chair Mrs. Rakhi Sarkar graced the second day. Prof. D. N. Bose and many other distinguished professors came in the second day.
THIRD AND FINAL DAY: Sept 13, 2015 Sept 13 was the winding up day. Still over 500 people came in. Specials participants came from the Evangelical Mission, Anthropological Society, and more from many Science and Art Colleges, and many more. Kindly see our SandHI Movie, which was showcased at ICCR:
https://www.youtube.com/watch?v=RLe6pPmF-GM&feature
The long term plan is now to create a Center for Excellence based on Sandhi. The Center will emanate a THOUGHT movement to create technically creative and profoundly holistic humane minds who will eventually transform India. SandHi may ideally be activated as a culture in the IIT education system.
At ICCR Exhibition